27
Aug
I have seen a lot of traffic exchange launches over the years but none quite like BootScootin'Traffic.
The first phase of the BootScootin'Traffic launch was to pay new members to sign-up until they reached 500 members. They did that in 4 hours!
The second phase of the BootScootin'Traffic launch was to pay members $0.50 – $1.00 for referring new members until they hit 1500 members. I have just learned that they have now achieved that goal… and they did it in less than 48 hours!
That's 1500 people in one place who have proven that they will sign-up for a program that brings them free traffic. What a fantastic opportunity to get your site in front of a lot of active marketers.
Now that the 1500 member goal has been reached they are launching a new promotion…
… $5 for the sponsor and referred member of user number 1550, 1600, 1650, 1700, 1750, 1800, 1850, 1900, 1950 and 2000.
On top of that… members 1525, 1575, 1625, 1675, 1725, 1775, 1825, 1875, 1925, and 1975 get $1 added to sponsor and referral.
Pretty cool.
If you are not already a member of BootScootin'Traffic now would be a great time to join and see what all the excitement is about. To join click the banner below.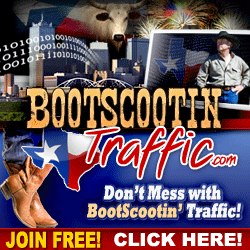 Join BootScootin'Traffic