8
Jul
As I mentioned a few days ago I want to start doing more reviews of individual safelists, viral list builders, and whatever other programs I have been using lately.
The first site I want to review is "A State of the Art Mailing System".  State of the Art Mailer is a relatively new safelist created by Jay Pause and Brad Webb which launched a few months ago.
A State of the Art Mailer System appears to be using a unique mailer script.  I would say it's more of a safelist than a viral list builder but there are number of unique features that makes State of the Art Mailer stand out from other sites.
One of the things you will notice is that when you join you are first asked to look at 5 websites belonging to other members before continuing.  I guess this is the "viral" aspect of the program because when you refer people your ad gets displayed in the 2nd position for your downline members to view and when they refer people your ad appears in the 3rd position.  Upgraded members can also have their ads randomly displayed in the other positions.  This is supposed to generate hands free traffic to your pages.  I've never been crazy about these kinds of systems but whatever.  I have referred 2 people and my pages have so far gotten 8 hits.
You only have to do this when you first join.  Otherwise you get presented with a login offer from Jay and Brad along with an advertiser's full-page ad.  You can earn credits if you view the full-page ad for 20 seconds or you can skip it and go right into the site.
The members area first appears a little confusing with 20 different menu options being presented to you.   The most important items are right at the start though with "Mail Now" being the very first.
So what makes State of the Art Mailer special?
SOTAM uses a unique mailing method called the "Button Escalation System" which rewards active members with the ability to send their ads to more members.  It's a little confusing but there's a really good video on the site which explains it:
http://www.youtube.com/watch?v=NDG3Ui8RMJ4
Basically when you start out as a free member you can email 500 members every 7 days.  However if you are active and read enough credit emails from other members you can get bumped up to higher level buttons which let you reach more members.
You can also upgrade your membership which gives you automatic access to the higher buttons as well as the ability to email every 3 days instead of 7.  I purchased the 5000 button upgrade when I joined and so far have had no trouble reaching the 7500 button which allows me to email almost the entire membership every 3 days.
It's been about 2 months since I joined and so far the results have been excellent. They even post live mailing stats in the members area so that you can see exactly how well the system is working.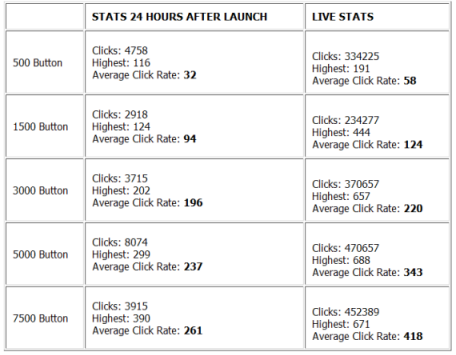 According to my own personal stats from last month I received 3,430 visitors to my splash pages which resulted in 13 new sign-ups to my program.  That's a pretty decent conversion rate but the fact that a site this new is producing numbers like this is very impressive.
There's a bunch of other unique features such as the "profit sharing pool" for active members (I earned a whopping $2.09 last month) as well as an "instant recruiting" system which apparently is still being worked on and hasn't been added to the site yet.
Overall I am very impressed with the State of the Art Mailer.  The site isn't real pretty but the results are what counts.  I think Jay and Brad have created something really unique here and I am looking forward to what they have planned for the future.
To join A State of the Art Mailing System for free click the image below.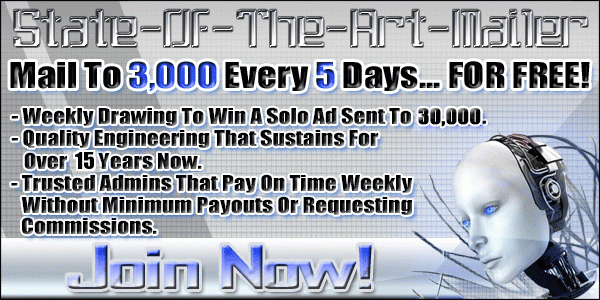 Click Here to Join A State of the Art Mailing System