5
Jul
I was hanging out in Traffic Exchange Live today where Jon Olson gave us an overview of the new prize widgets that went live at Sweeva today.
The Sweeva widget is a little javascript app that you can put on your website that either shows your personal Sweeva stats or a live thumbnail of the current page being shown on Sweeva.  You earn points every time your Sweeva widget is viewed and of course you get a referral if someone joins Sweeva through your widget.
Starting today the Sweeva widget will randomly start giving away prizes!  Instead of the usual content it will display a "Hidden Bonus" message and if you click it you will win the prize.  What's cool is that not only does the person clicking the widget win a prize but the prize is split with the person displaying the widget.
This makes for a fun "easter egg hunt" that will hopefully get people looking at your page.  I know a bunch of us spent some time today visiting each other's websites looking for prizes.
I have the Sweeva widget installed here on my blog.
Can you find it?
If you win a prize please post a comment below.
Refreshing the page won't help but make sure you check the Sweeva widget everytime you visit my blog.  You never know when you will be the next winner.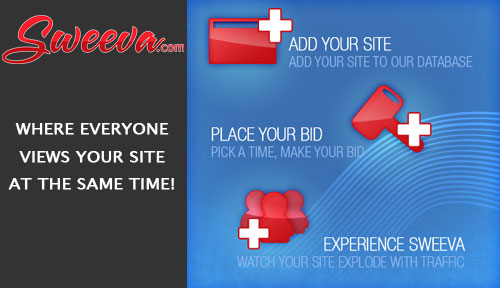 Click Here to Join Sweeva