1
Jul
Happy July everybody!
Unfortunately I have no stats to share this month.
Boo!
While doing some traveling with the family last month the link tracking service that I had been using for several years went down without any warning or explanation.  Up until a few years ago it had been a great service but recently it has felt like it's been running on autopilot with nobody behind the wheel.  That's why I haven't recommended it for so long.  I probably should have stopped using it a long time ago but it was easier to just keep doing what I was doing and not worry about it.  Lesson learned.
The good news is that I have managed to get 95% of my links back up and running with a new tracking service and traffic is back to flowing full throttle to all of my sites again.
I also feel very confident about now being able to recommend HitsConnect as the premiere link tracking service for anyone in our industry.
If you aren't aware HitsConnect is created by the same guys who wrote the LFM script that most safelists and traffic exchanges run on.  It's designed specifically for Internet marketers who do the kind of things we do and has all the bells and whistles anybody could ever need.
If you are not tracking the links in your safelist ads you are missing out on a huge piece of the puzzle.  Knowing which links convert best and where allows you to focus your advertising on what works and avoid the things that waste your time and money.
Click the banner below to explore HitsConnect for free.  When you are ready to upgrade I recommend grabbing the yearly deal which will save you a ton of money on your membership.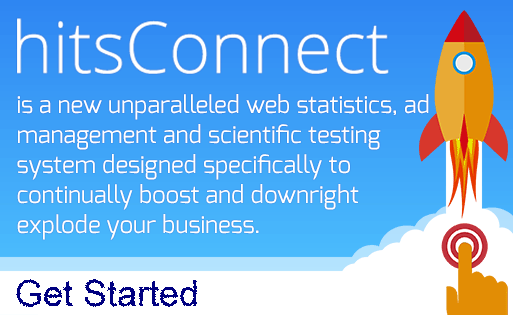 I just got my safelist ads back up and running again yesterday with HitsConnect so hopefully next month I will have some new stats to share with you in a brand new format.  Until then, keep up the good work!