24
Nov
About a week ago I started seeing some ads for a new program that was just released called "Safelist Genie" which is supposed to help you manage all of your safelist accounts.
Having written a book on safelist marketing ("Safelist Marketing Tactics") I thought Safelist Genie would be a good product to buy and review here on my blog.  Luckily, I didn't need to buy anything because the program comes with a 14-day free trial which is more than enough time to see exactly what it can do.
Safelist Genie is a stand-alone software product that works with Windows 2000, XP, Vista, and Windows 7 (sorry, there's no Mac version).  It was created by the same people who did TE Browser.
Before I continue I should probably point out that safelist marketing has been a daily part of my marketing routine for the past two years.  Having spent so much time doing it I have naturally developed my own style and method for handling the tedious task of reading credit emails and submitting my ads every day.  It's not fun, but it works.
It was my hope that Safelist Genie would be a good enough for me to recommend to my readers who don't already have a system of their own to hopefully make using safelists a little bit easier for them.
So I signed-up for Safelist Genie with high expectations.   I was even prepared to buy the "one time offer" but I was surprised to find that there was none.  Instead I continued with the free 14-day trial and installed the program on my computer.
I don't know about you but I like to jump right into new programs and start pushing buttons.  I guess I like to learn from experience.  Unfortunately that just isn't possible with Safelist Genie.
After staring blankly at each of the feature screens for a few minutes I finally came to the "Help/Guide" section which contains the user manual for Safelist Genie.  You must read the manual if you want any chance of figuring out how to setup and use this program.  And good luck getting through the manual without scratching your head in confusion more than once.
My first task was to setup my pop3 email so that the program could download my safelist emails.  I admit that I am one of the few people who still checks their emails with an offline email program.  Because of this I do have some experience with managing my pop3 email setting but I still had a hard time configuring this thing.
After several failures I finally guessed what "port" I was supposed to use by trying the one in the manual's example.  With my pop3 settings in place I selected a few safelists to test.
The safelists page is basically a giant spreadsheet containing a list of all the supported safelists.  If you enter your username and password into the spreadsheet and click the "update" button the program will retrieve your safelist info… sorta.
As you can see in the image above the software was able to tell me the current mailing limit and even how many referrals I have but it failed to tell me how many credits I have left.  Don't ask me what "daily use" and "credits level" are because it failed to fill anything in there too.
Checking my email for the selected safelists wasn't too difficult once I got my email settings correct (there is no error message if they are wrong, it just does nothing).  However I also found myself confused just trying to read the emails.  Back to the manual!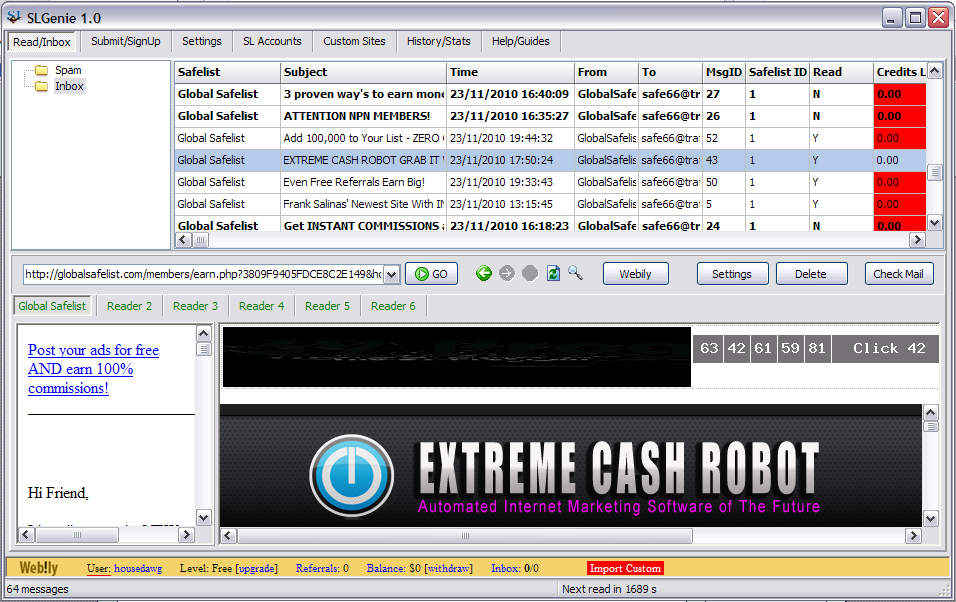 As you can see in the image above (click it to make it bigger) the downloaded emails appear in the top frame.  To open an email you click it once and the email will appear in the bottom left corner of the screen.  To access the credit link click the email twice and the link will be opened in the bottom right corner of the screen.
To speed things up Safelist Genie has 6 different browser windows that you can use.  So you can double click an email to open the credit link, switch to a new reader, and open another credit link.  This saves you time because instead of waiting for the safelist timer to count down you can open up 6 credit links at once.
While this may be a huge time saver for earning credits it certainly doesn't help the people who are using safelists to get their ads seen.  The actual email becomes virtually meaningless as it is confined to the small bottom left corner of the screen.  While the size of the window can be adjusted to show more of the email it isn't necessary if all you are after is the credit link.
Even if you wanted to read the emails it's almost impossible.  It seems that Safelist Genie will only displays emails in html format.  If the email was sent as a regular text email it is virtually unreadable here.
The credit url window isn't much better.  While it can be resized to make the page more readable I suspect most people will only be seeing the very top of the pages being promoted.
It's not all bad though.
The safelist submission tool is actually pretty cool.  Once you setup your ads you can simply select the safelist you want to submit to from a pull-down menu and push "Go".  The submission form immediately appears with your ad already filled in.  What's cool is that it also fills in the maximum credits to use and even sets the "Save This Message?" button to "No" (I hate always having to change that).  All you need to do is click the "submit"  button and move on to the next safelist.
It usually takes me about 15-20 minutes to submit to my 25+ safelists every day.  I'm guessing once I have this all setup Safelist Genie can probably do the job for me in about 5-10 minutes.
I am interested in hearing what safelist owners think of this submission method though.  Automatically loading the safelist submission form does save time but it also means less revenue for the safelist owners as fewer people will be logging into the site normally and bypassing any offers.
Overall thoughts?
Pretty disappointing.  While I can see the value of some of the features this program is just way too complicated for me to recommend for the casual user.  The interface is neither intuitive or user-friendly.  However, if you have the patience to figure out how everything works I can see how Safelist Genie can be a huge time saver.  I just hope giving members the ability to read emails in tiny windows doesn't kill the effectiveness of safelist advertising in the future.

Click Here to Download Safelist Genie